PARTS OF A CASTLE: Do you know what a bailey is? How about a portcullis? Click here for castleVocabulary. Crenels are one of the most important parts of a castle: they are the gaps between the sections of wall on the top of the turrets and castles. People who wanted to build a castle had to ask permission from the King. Permission to build a castle was called "License to Crenellate", since the crenellations (battlements made up of towers that had crenels) were what made a castle different from any other kind of building.

Who's Who in the Castle: The Lord and Lady were married at a very young age, and usually came from the nobility. In the castle itself the Lord and Lady would have a staff of clerks, who knew how to read and write. The Lord would have a large staff to help him run his estates. The steward was in charge of the household, the reeves organized the farms and the bailiffs collected the rents. The marshal organized the living arrangements for the castle. He would be helped by grooms, pages, and serving maids to keep everything ready for guests. The cooks worked in the kitchens, which were often built in the courtyard to decrease the risk of fire. The butler and pantler were in charge of buying and storing food supplies. The ewerer provided cloths for the Lord's table. Of course, the castle had to be defended, so there were numerous foot-soldiers, as well as knights, squires, and pages. A large castle would be like a small town. You would find anyone you needed to help you, from a blacksmith to make your armour, to musicians, jesters, jugglers, and acrobats who entertained the Lords and ladies. Jesters were recognized for their funny costume, which included a belled hat. Jesters told jokes and stories to make people laugh. A wealthy Lord might own several castles, as well as smaller farms or manor houses. The constable was one of the most important servants. He ran the castle when the Lord and Lady were away. Among his duties were approving money for repairs and building, guarding prisoners, and purchasing supplies. Other people who worked in the castle included:
Tailors: Who made clothes for nobles.
Plumbers: Who made lead pipes and sheets.
Carpenters: Who would make timbers as well as building and repairing the castle buildings.
Atilliators: Were among the most important and highly paid workers. They made crossbows (artillery) for use in defending the castle.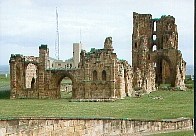 Bailey: The enclosed courtyard area surrounding the castle inside the castle wall. There may be several courtyards (baileys) inside the castle wall.
Drawbridge: A movable bridge. One end of the drawbridge could be raised to keep an enemy from crossing it.
Garderobe: The inside toilet in a castle. Clothes were often kept in a garderobe because the smell was so awful that it would protect the cloth from being eaten by moths.
Garrison: Where troops lived.
Gatehouse: The main entrance to the castle.
Keep: The central castle building.
Moat: A ditch that encloses the castle. It is filled with water to prevent people from crossing it.
Portcullis: The sliding grid or wood or metal used to block the castle entrance.
Tapestries: Decorative wall-hangings. These were like large pictures, woven with bright threads.
Treasury: A room with a very strong, thick wall where money and treasure was stored.
Cooking Vocabulary:
Buttermilk: The liquid that is left after churning, once the butter has been removed from the milk.
Cauldron: A huge pot, often made of iron. This is used to cook things, usually over an open fire.
Game: Animals, birds, and fish that are hunted.
Mortar: A bowl that is used to grind food into small pieces or powder. The grinding tool is called a pestle.
Poaching: Taking or hunting animals on someone's land without permission. This is still a very dangerous and illegal thing to do!
Pottage: A kind of soup or stew that is very thick. It is made with lots of vegetables or grain, and might have fish or meat added to it. Often milk or honey is added to make it taste sweet.
Preserve: What you do to food to make it last longer. Food can be smoked, salted, pickled, or dried so that it will not go bad over the long winters.
Pullet: A young chicken.
Sweetmeats: These aren't what you think! This was the name for small candied fruits, cakes, marzipan and nougat. Remember, there were no chocolate bars in the middle ages!
OTHER MEDIEVAL VOCABULARY:
Craft: The medieval word for a skilled occupation.
Guild: An association of skilled workers.
Jerkin: A sleeveless jacket.
Loom: Equipment used to weave cloth. It consists of a wooden frame with threads (the warp) stretched across it. Other threads (the weft) would be threaded in and out to make fabric.
Oath: A solemn promise.
Parry: Defend yourself by deflecting a blow from an attacker.
Tallow: Mutton (lamb) fat. This was used to make candles and lamps.
Tanning: The process of making leather. This is when you clean, dye and treat leather to make it ready for use.